Chery's Overseas Sales Hit a New High with a Year-on-year Increase of 70.9%
In November, Chery Group's sales volume reached 100,531 units, making it the sixth consecutive month in the year with the sales exceeding 100,000 units in a single month. The cumulative sales volume from January to November was 1,127,289 units, up 32.6% year on year, achieving the best performance in its history. In particular, with the total export volume increased by 70.9%, Chery has broken a new record of "going global" for Chinese brand passenger vehicles.
Exceeding 400,000 units of the export volume for the first time, Chery series products show outstanding performance
The year 2022 witnessed a complex world circumstance and a severe trade situation, while Chery, which has been the No. 1 exporter of China's passenger vehicles for 19 consecutive years, still maintains a forceful posture against the trend. In the first 11 months of this year, Chery has broken the record set by itself for the export of Chinese brand passenger vehicles in a single month successively, with four months of export volume exceeding 50,000 units.
Products with powerful strength are the core factor for Chery to achieve considerable sales worldwide, and Chery has therefore created a situation in which multiple product lines are in full development. Specifically, the cumulative sales volume of the large 7-seat flagship SUV of TIGGO 8 PRO series has reached 171,000 units. In addition, it has been designated as a reception vehicle for state guests in Brazil for many times, which has won the trust and praise of consumers in various countries and regions; While TIGGO 7 PRO, as a major product with good appearance and the trend of technology and fashion, has a total sales volume of 146,000 units, ranking first in the market segment in Qatar and other Middle East countries/regions.
Making remarkable achievements in football marketing, it steps onto a new stage of user operation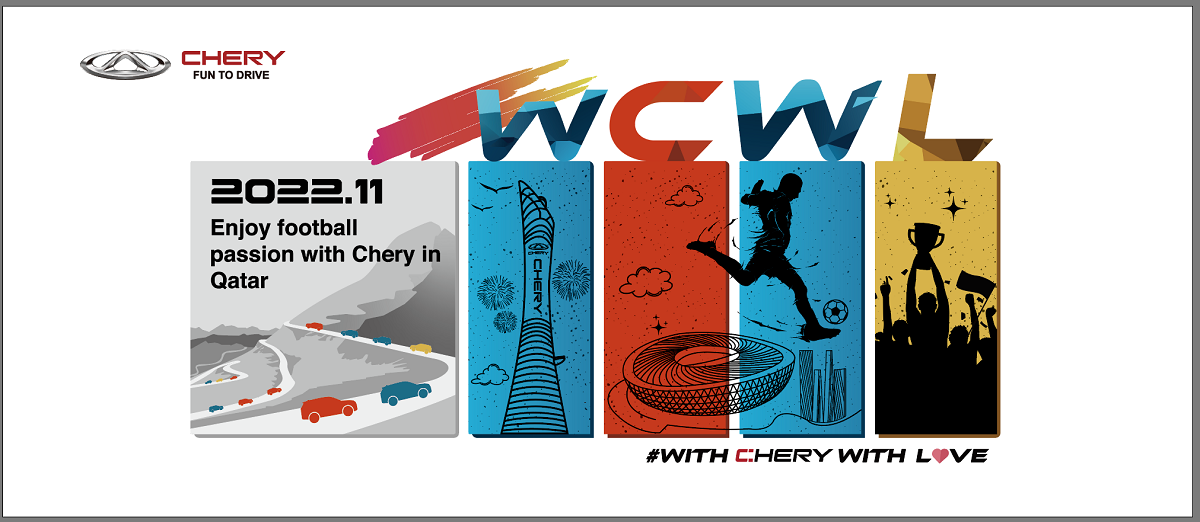 Chery's excellent performance in November is inseparable from its marketing and communication activities during the FIFA World Cup Qatar 2022. Prior to the opening ceremony of this World Cup, Chery planned and organized a variety of brand promotion and vehicle owner interaction activities, and implemented and promoted the plan of "lighting up landmarks" in many countries around the world.
In Qatar, the host country of the World Cup, Chery lit the Torch Doha, the tallest building of the capital of Qatar, through "cheering lamp signals", and became the official designated vehicle of Qatar Airways during the World Cup, as well as providing vehicle services for Qatar's security departments and media outlets in more than ten countries and regions, thus greatly enhancing the popularity and reputation of Chery brand.
In addition, Chery also performed well in major countries with rich football culture. In some Central and South American countries such as Brazil, Ecuador, and Costa Rica, Chery has organized various group spectating activities, and invited football stars as well as famous sports commentators to interact with football fans, greatly inspiring the enthusiasm of sports fans for watching the matches; In Mexico, Tunisia, Morocco and other places, Chery reached cooperations with local TV stations and conducted interesting prize-giving guess contests. In Africa, Chery sponsored Ghana's national team, which allowed Chery to be noticed in the World Cup.
This series of effective measures optimized the popularity and awareness of Chery brand in the world significantly. Moreover, Chery shared passion of the World Cup with thousands of vehicle owners around the world, which also showed that it has raised its service concept of "user-centered" to a new high, so as to win the trust of more consumers.
So far, Chery's global sales volume has reached a new stage, with more than 11.13 million users as well as 2.35 million overseas users. Constantly adhering to the in-depth development strategy from "going global", "developing deeply" to "building brand image", Chery will become partners with more and more overseas dealers and excellent enterprises in the global automobile industry chains to explore overseas markets, thus creating another splendid achievement.