The Logic Behind Chery Group's Breakthrough Against the Trend
Looking back at the global automobile market in 2022, Chery has delivered a steady and growing performance in the face of many challenges. In the 25th anniversary of its establishment, Chery made a breakthrough against the trend, creating a "historical first" in sales and exports.
According to the data released by the China Association of Automobile Manufactures, among the top 10 enterprises in terms of automobile sales in 2022, Chery Group ranked second in the industry with a growth rate of 28.2%, significantly exceeding the industry average growth rate of 2.1%; the annual export of Chinese automobiles stood at 3.111 million units, of which Chery Group exported 452,000 units, ranking first in the export of Chinese passenger vehicles brands for 20 consecutive years. Chery accounted for one out of every seven vehicles exported by China in 2022.
With innovation, users can always experience more than expected and always be surprised
In an era of uncertainty, only innovation can adapt to all changes.
When it comes to innovation, the first thing that comes to mind is the relentless pursuit of core technologies and the profound accumulation of "Technology Chery". Chery unveiled its 2025 cutting-edge technology strategy in September 2022, presenting a "Technology Chery" that breaks the traditional impression of the outside world. It turns out that Chery's layout has not only spanned multiple fields such as traditional core technology and CASE (Connected, Autonomous, Sharing and Electric) technology, but also covered multiple dimensions such as basic system, cutting-edge technologies, sharing platform, digital economy, value chain and ecosystem.
The "Technology Chery" today is not only a building elevated layer upon layer, but also a living innovation ecosystem. Chery has laid out in many of these areas for many years, with many technological achievements already applied to mass-produced products, making Chery's products more competitive, which is the key reason for the rapid growth in sales of Chery Group this year.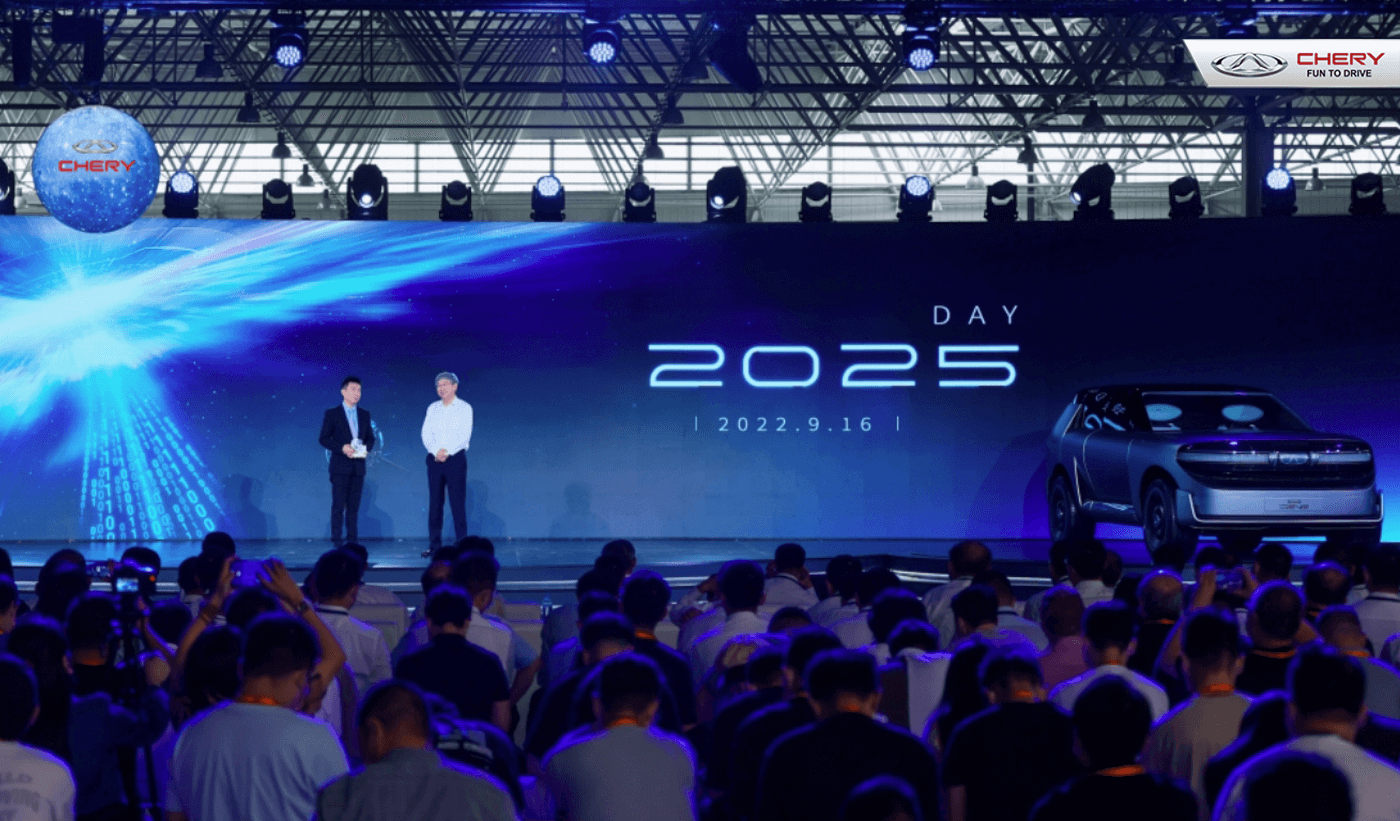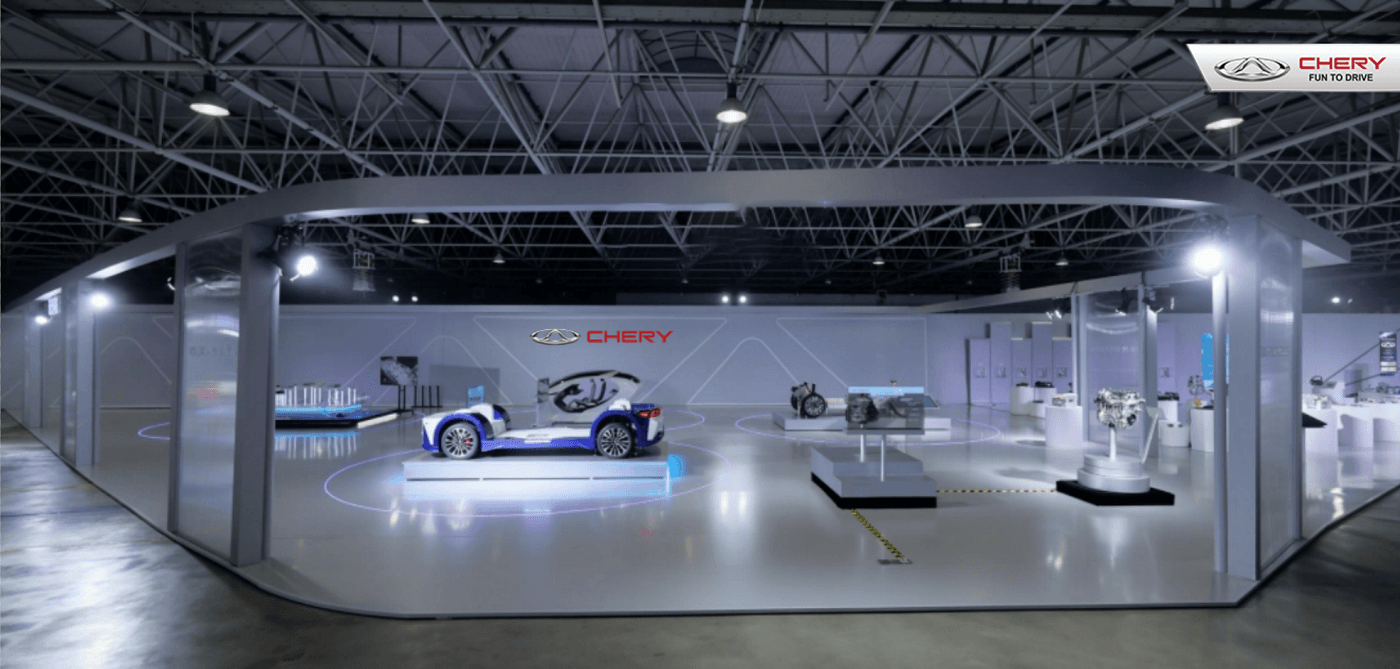 The pictures show the venue of Chery Technology DAY, and the black technology such as skateboard platform and intelligent cabin on display
Whether it is the Q-POEWER series which is widely used in many Chery models, the Lion intelligent cabin which is used by more than 1 million users, or the EEA 4.0 electronic and
electrical architecture, all are the concentrated manifestation of "Technology Chery" to promote rapid product iteration, offering users with"always experience more than expected and always be surprised", allowing Chery products to gain differentiated advantages in each market segment.
Further entering the global market, a "Chery-made" automobile is delivered overseas every 70 seconds
Chinese automobile today is rapidly becoming a new choice for users around the world like cell phones and home appliances that are made in China. In 2022, Chery Group exported
more than 450,000 vehicles, representing a 68% year-on-year increase; and every 70 seconds on average, a "Chery-made" vehicle is delivered to overseas customers.
The globalization of Chinese automobiles is not only the globalization of the market, but also the integration of talents, technology, supply chain, culture and other aspects, which is the globalization that integrates with each other. In the process of going global, Chery has been adhering to two principles: the first is to share the fruits of cooperation with overseas countries and overseas partners, and to be a well-received partner; the second is to deeply integrate into the global automobile industry chain, promote localization, to be a local corporate citizen and a local brand, and to jointly contribute to the economic and social development of countries in overseas markets.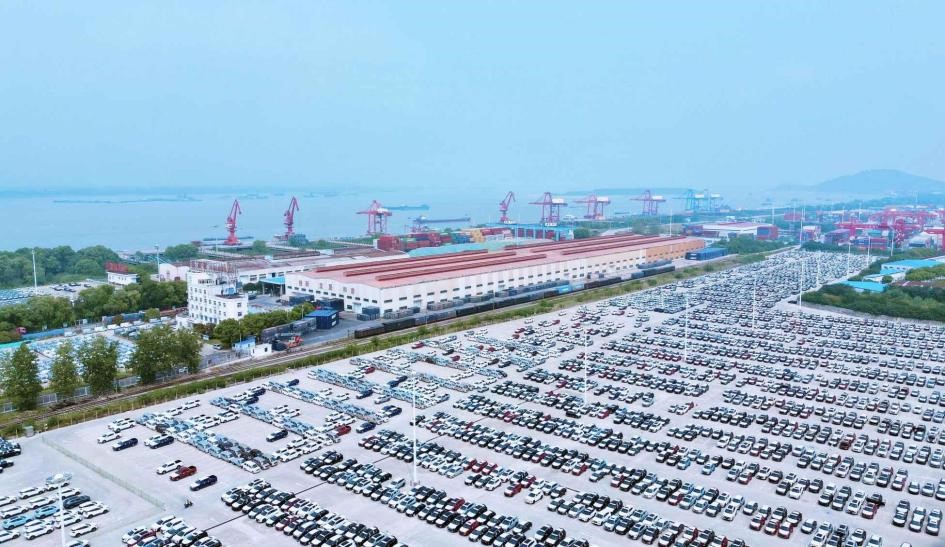 The picture shows each model of Chery brand to be transported to global markets at International Terminal of Wuhu Port
In 2022, Chery Group continues to increase the layout and launch of its high-end brands and products in overseas markets, and is committed to providing overseas users with the best products and services. As the representatives of star products, TIGGO 8 series and TIGGO 7 series have won the trust and favor of overseas consumers; moreover, TIGGO 8 has been designated as a reception vehicle for state guests in Brazil and other countries for many times. Chery Group has broken the record of single-month export for Chinese brand passenger vehicles set by itself one after another, with four months of single-month export exceeding 50,000 units.
From "going global", "developing deeply" to "building brand image", Chery keeps exploring the innovative practice of Chinese brands to go global. By now, Chery Group has cumulatively exported more than 2.4 million vehicles, accounting for 20% of the total export volume of Chinese automobiles over the same period.
The system "upgrade" brings high quality growth by maintaining strategic determination
By maintaining strategic determination and insisting on open and innovation, Chery has brought together high-quality resources globally and promoted the "upgrade " of the system to achieve a significant improvement in the quality of business operation.
In the "circle of partners" of Chery's open cooperation, not only the number of partners is increasing, but also the scope and level of cooperation is more diversified and profound. In 2022, Chery Group has joined hands with Luxshare Precision, Haier, Huawei, CATL, iFLYTEK, Horizon Robotics and other first-class enterprises in various industries, building a number of "cross-border alliances" of joint innovation, integrated innovation and open collaboration. Chery Group has cooperated with them deeply in industrial Internet, intelligent solutions, power battery system, ecosystem cooperation and so on.
These cooperation achievements are not only applied to Chery's technology, products and services, but also constantly drive Chery's strategic development, digital transformation and cultural construction. In 2022, the industrial Internet platform of HiGOPlat built by Chery and COSMOPlat was put into operation and applied in Chery Qingdao Super Factory and Chery Wuhu Super Factory in succession, which not only create a number of pacesetting "beacon factories", but also establish a new production mode of mass individual customization.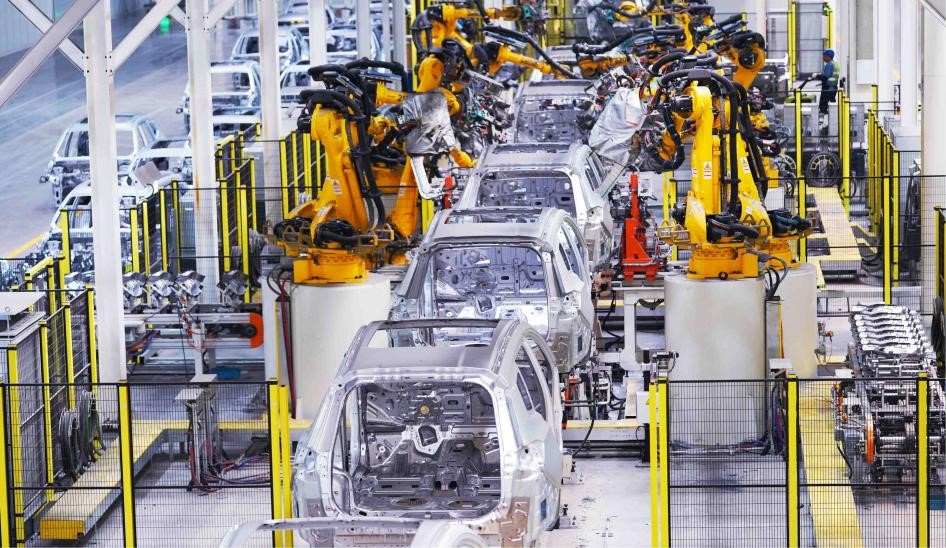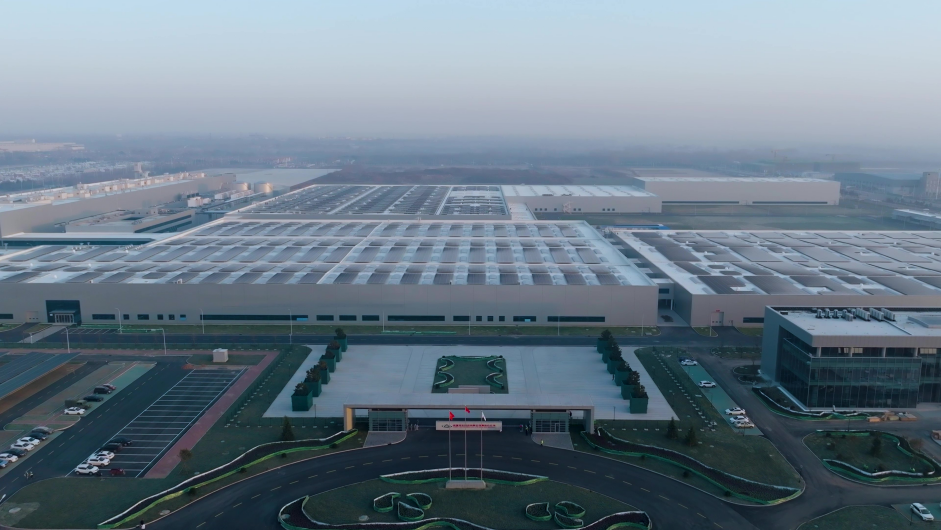 The picture shows Chery's super factories in Wuhu and Qingdao
Thanks to top talents from various fields around the world in "two ways rush" with Chery, the enterprise talent structure is also quietly transformed.
In 2022, Chery introduced global top talents from various fields such as styling, chip, software, operating system, and intelligent cabin, including Chris, the former top designer of Mercedes-Benz, and established a team of "chief scientists". At present, Chery boasts more than 10,000 engineers and scientists, which used to be mainly mechanical engineers, but in the future, there will be more software engineers, chip engineers, scientists, mathematicians, physicists and so on.
In 2023, according to the strategic rhythm of seeking progress in a stable manner, Chery Group will strive to achieve a greater leap in sales volume, market share and other indicators than in 2022 with an "acceleration" that far exceeds the average growth rate of the industry, and accelerate the pace of being a world-class enterprise.